Creation in the 21st Century with David Rives
Join David Rives and Russ Miller in this exciting episode of Creation in the 21st Century. You're probably asking yourself: "What does 'leaven' have to do with the subject of Creation?" Russ Miller and David Rives answer this question and a lot more, as they reveal just a few examples of 'leaven' (unproven theories) found scattered throughout much of today's public school material.
For more on this episode's topic, see the resources below: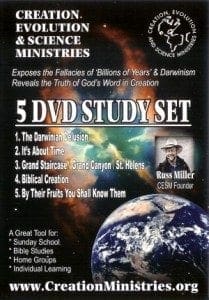 CLICK HERE to check out "Russ Miller's 5 DVD Set" in the Creation Superstore

Everything Russ Miller has ever shared is gathered into this set!
This updated and revised edition includes new teachings by Russ Miller on Public Schools, Prophecy concerning Creation, Grand Canyon and Grand Staircase information. The DVD set includes all five of the CESM "series" DVDs and the following seminars:
◾The Theft of America's Christian Heritage ◾Science vs. Darwinism in the Textbooks
◾Public School Menticide ◾The Foundations – why "Creation" matters
◾An Old Earth or a Global Flood ◾Noah's Ark and Dinosaurs
◾AND MORE!
This Russ Miller collection is loaded with shocking and eye-opening information, that glorifies God and the TRUTH of His Scriptures!
Visit David Rives Ministries Homepage for more information.
"LIKE" the Creation in the 21st Century Facebook page.
The following two tabs change content below.

With a unique combination of creation science and Biblical astronomy, David has built a solid case for our Creator and Savior, Jesus Christ–and the world is taking notice. Host of the weekly TV show "Creation in the 21st Century" on TBN, and author of the book "Wonders Without Number".
davidrives.com

Latest posts by David Rives (see all)