Creation in the 21st Century with David Rives
Join David Rives (host) as he welcomes Dr. Terry Mortenson to this episode of "Creation in the 21st Century" titled: "Apemen, Adam, & The Gospel."
If you watched the program and want related material, we have Dr. Terry Mortenson's DVD "Ape-Men: The Grand Illusion" that covers the same material discussed on the TBN Show. Just click the photo and links below to go to our store.
CLICK HERE to check out "Ape-Men: The Grand Illusion" DVD in the Creation Superstore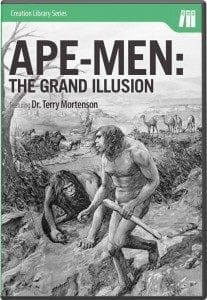 Ape-Men: The Grand Illusion
In this illustrated lecture presentation featuring Dr. Terry Mortenson, you will see that the "scientific evidence" does not stand up to scrutiny and that Christian leaders trying to fit ape-men into Genesis are seriously mistaken. The gospel importance of the supernatural creation of Adam and Eve is then made clear. See for yourself that the idea of ape-men is a grand illusion, deceiving millions and undermining both the clarity and authority of Scripture and the gospel message itself!
Visit David Rives Ministries Homepage for more information.
"LIKE" the Creation in the 21st Century Facebook page.
The following two tabs change content below.

With a unique combination of creation science and Biblical astronomy, David has built a solid case for our Creator and Savior, Jesus Christ–and the world is taking notice. Host of the weekly TV show "Creation in the 21st Century" on TBN, and author of the book "Wonders Without Number".
davidrives.com

Latest posts by David Rives (see all)