Creation in the 21st Century with David Rives
Join David Rives on this episode of Creation in the 21st Century as he welcomes Mike Snavely of "Mission: Imperative!" to talk about "Aunt Lucy?". If mankind evolved from some sort of ape-like creature, then there should be of evidence of that, too. LOTS of it! Think about it – – – if we've been evolving for two to four million years, there should be, in warmer areas of the earth where "hominids" were most likely to have lived, billions and billions of "intermediate" (ape-men) fossils found. Again, there aren't any. Sure, there have been fragments of apes (both of living specimens and extinct ones) found, but that is hardly evidence for evolution. People see what they want to see.
See the link below to check out products related to the topic of this program.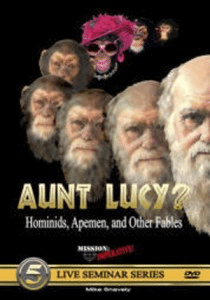 CLICK HERE to check out Aunt Lucy? DVD in the Creation Superstore
In this session, we consider (with a degree of humor) some of the "evidence", methods, and bias that produces the fables of hominids and pre-human cavemen.
Visit David Rives Ministries Homepage for more information.
"LIKE" the Creation in the 21st Century Facebook page.
The following two tabs change content below.

With a unique combination of creation science and Biblical astronomy, David has built a solid case for our Creator and Savior, Jesus Christ–and the world is taking notice. Host of the weekly TV show "Creation in the 21st Century" on TBN, and author of the book "Wonders Without Number".
davidrives.com

Latest posts by David Rives (see all)