Creation in the 21st Century with David Rives
Join David Rives as he welcomes Steve Ham to this episode, where they'll discuss the origin of man, and what it means to be made in the image of God.
If you watched the program and want semi-related material, Just click the photo and links below to go to our store.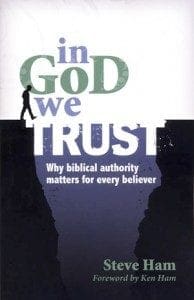 CLICK HERE to check out the book "In God We Trust | Why Biblical Authority Matters for Every Believer" in the Creation Superstore
In God We Trust | Why Biblical Authority Matters for Every Believer
Do you know why you believe in Christ?
If challenged by a skeptic, would you be able to give a satisfying answer? We must grasp actual reasons that matter in our lives. It's not just about defending the faith, or even simply about winning the lost. It is about an intimately personal worship of a God we can truly call Father.
Steve Ham gets to the heart of why biblical authority matters, how it is displayed in God's character, and how that authority must impact our daily Christian lives. True commitment to the Creator's loving authority inevitably impacts us to the core, and helps us in such diverse areas as; family, worship, the way we view and interact at church, and even how we share the Good News of Christ's redeeming love with others!
Visit David Rives Ministries Homepage for more information.
"LIKE" the Creation in the 21st Century Facebook page.
The following two tabs change content below.

With a unique combination of creation science and Biblical astronomy, David has built a solid case for our Creator and Savior, Jesus Christ–and the world is taking notice. Host of the weekly TV show "Creation in the 21st Century" on TBN, and author of the book "Wonders Without Number".
davidrives.com

Latest posts by David Rives (see all)