Creation in the 21st Century with David Rives
Join David Rives (host) as he welcomes ministry friend, James Worrell to this episode titled: "Biology & The Bible." What is DNA and what does it tell us about a Designer, God? Using excerpts from his popular powerpoint presentation called: "Bible Knows Best", David Rives is the featured speaker on this unique episode. David presents awe-inspiring facts about human design and chats with James Worrell about the fact that we as human beings are not the result of random chance evolution….we are created in the image of God!
If you watched the program and want semi-related material, just click the photos and links below to go to our store.

CLICK HERE to check out "Made In His Image – Exploring the Complexities of the Human Body" DVD Series in the Creation Superstore
Mankind: Made in the Image of God
Evolutionists say any appearance of design in nature is just an illusion. But how does that stack up to reality? "So God created man in His own image; in the image of God He created him; male and female He created them." Genesis 1:27

A four-episode DVD series on the complexities of the human body
There is no better example of complex, conscious design than the human body. This awe-inspiring series will explore some of its most extraordinary systems, which are so perfectly designed and masterfully engineered that the viewer will be left with no doubt that we are indeed created by an expert designer, God.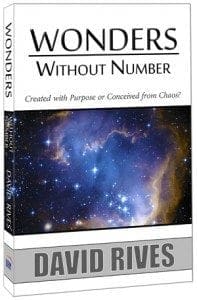 CLICK HERE to check out "Wonders Without Number – Created with Purpose or Conceived from Chaos?" DVD Book in the Creation Superstore
As we witness the indescribable beauty of our Creator's Universe and consider the wonders of His creation, we begin to understand that empirical science, that which can be proven, in no way contradicts the words of scripture.
In contrast to what evolutionary science teaches, we are not highly developed animals, the product of random chance. Just as the heavens and Earth were carefully designed, we are "fearfully and wonderfully made" by a loving God.
Visit David Rives Ministries Homepage for more information.
"LIKE" the Creation in the 21st Century Facebook page.
The following two tabs change content below.

With a unique combination of creation science and Biblical astronomy, David has built a solid case for our Creator and Savior, Jesus Christ–and the world is taking notice. Host of the weekly TV show "Creation in the 21st Century" on TBN, and author of the book "Wonders Without Number".
davidrives.com

Latest posts by David Rives (see all)