Creation in the 21st Century with David Rives
In this 30 minute program, Dr. Nelson gives a powerful presentation celebrating a timeless truth: every creature that swims, runs, flies, or crawls across our planet is the product -not of genetic accidents or blind chance- but of purpose, imagination, and design. Join David Rives and Dr. Paul Nelson in this exciting episode of "Creation in the 21st Century."
If you watched the program and want related material, we have a DVD series that cover the same material discussed on the TBN Show. Just click the photo and links below to go to our store.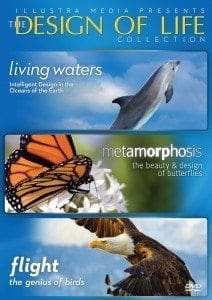 CLICK HERE to check out "The Design of Life 3 DVD Collection" in the Creation Superstore
Introducing The Design of Life 3-DVD collection of the internationally acclaimed documentaries, Living Waters: Intelligent Design in the Oceans of the Earth, FLIGHT: The Genius of Birds, and METAMORPHOSIS: The Beauty and Design of Butterflies.
Living Waters, FLIGHT, and METAMORPHOSIS are the first three volumes of the new series, The Design of Life. Together, they explore fascinating evidence for intelligent design, while confronting the myth of Darwinian evolution that has long dominated the scientific establishment. The 3-DVD Set is available in DVD and Blu-ray.
Visit David Rives Ministries Homepage for more information.
"LIKE" the Creation in the 21st Century Facebook page.
The following two tabs change content below.

With a unique combination of creation science and Biblical astronomy, David has built a solid case for our Creator and Savior, Jesus Christ–and the world is taking notice. Host of the weekly TV show "Creation in the 21st Century" on TBN, and author of the book "Wonders Without Number".
davidrives.com

Latest posts by David Rives (see all)