Creation in the 21st Century with David Rives
Join David Rives on this episode of Creation in the 21st Century as he welcomes Dr. Tommy Mitchell of "Answers In Genesis" Dr. Mitchell and David take a look at recent catastrophic events that have devastated entire nations all over the world. After taking a look at the results of these horrifying events, they attempt to give answers to the questions: "Why would a loving God allow death and suffering?" "How could a loving God allow people we love to suffer and die?"
Click the link below to check out a product related to the topic of this program.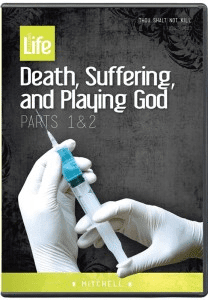 CLICK HERE to check out Death, Suffering, and Playing God DVD in the Creation Superstore
How could a loving God allow people we love to suffer and die? What answers do we have for those contemplating suicide and those affected by it? Find answers in this 2-part DVD from the compelling DVD series, Death, Suffering, and Playing God.
Visit David Rives Ministries Homepage for more information.
"LIKE" the Creation in the 21st Century Facebook page.
The following two tabs change content below.

With a unique combination of creation science and Biblical astronomy, David has built a solid case for our Creator and Savior, Jesus Christ–and the world is taking notice. Host of the weekly TV show "Creation in the 21st Century" on TBN, and author of the book "Wonders Without Number".
davidrives.com

Latest posts by David Rives (see all)