[Originally published as Immeasurably More than I Imagine]
The word "more" makes me think of what I realized this morning: I need more manna each day. It's a good thing, because, my perpetual need of spiritual food is one of the ways God increases my intimacy with Him.
I don't need to feel shame about needing more of His grace.
So, when I felt fearful this morning, I turned to the Word and read in John 9 about the disciples feeling concerned for the crowds of people Jesus was preaching to; they worried folks would get famished. They told Jesus to send them away. In that moment of reading about the five loaves of bread and two fish feeding over five thousand people, I recognized my own doubts about God providing enough for me.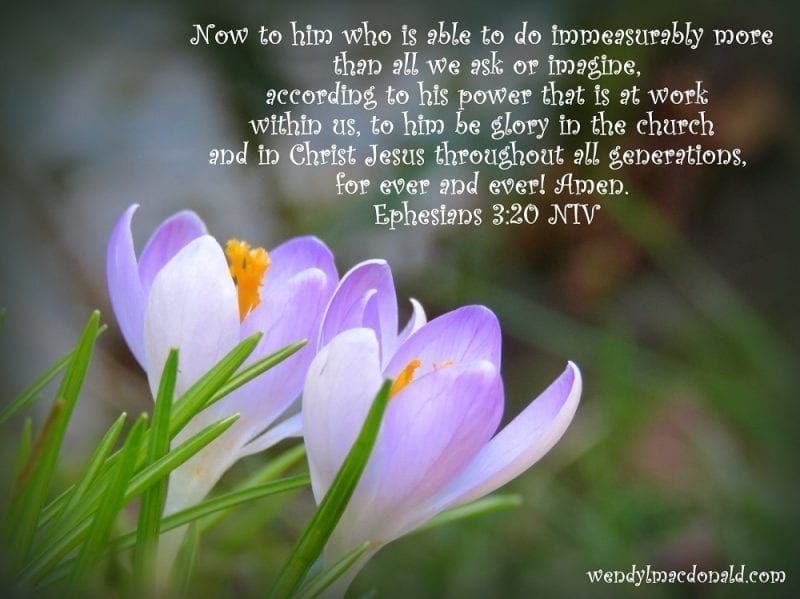 How could they doubt a God who had performed healing miracles? How could I doubt the God who has performed them in my life too?
More. More manna I seek each morning because that's what we're supposed to do. I don't need to rely on measly me; I don't need to rely on yesterday's message; I need to rely on my amazing Messiah: Jesus.
What a gracious God He is who doesn't shame his children.
Instead, He daily opens His arms wide to welcome us with love. I don't need to worry about tomorrow either; tomorrow, more manna will fall from Heaven.
Our need for daily manna promotes intimacy with our Messiah.
Immeasurably more
My Master gives me
When I humbly bow
And bravely believe
Immeasurably more
Than all I could ask
When I walk in faith
And follow Christ's path.
~ wlm
Now to him who is able to do immeasurably more than all we ask or imagine, according to his power that is at work within us, to him be glory in the church and in Christ Jesus throughout all generations, for ever and ever! Amen. Ephesians 3:20 NIV