[Originally published at WendyMacDonald.com]
One of the biggest challenges to faith is trusting God when we witness suffering. This scenario is also an opportunity to strengthen our faith muscles. I'll explain what I mean about this spiritual workout later. First, I want to share a personal story about suffering.
Several decades ago, I deeply mourned for my grandmother. She had dementia and ended up in the hospital due to internal bleeding. While recovering, she climbed out of her hospital bed, fell on the floor, and broke her hip.
The time between her hip fracture and the operation to repair it was torture for her. She moaned, cried, and yelled as if she were in labor. Her dementia caused her to pat her hand on the mattress and call out for her dog that was not allowed to visit her bedside. At one point she asked where her mother was.
As I watched her suffer, my heart broke. As I listened to her anguish, I asked God how He could stand to witness so much suffering in the world. I was overwhelmed by the cries of one elderly woman. Yet, God hears the cries of the entire planet.
I prayed for my grandmother. I recited what I remembered of the 23rd Psalm to her. And I gently moved strands of her silver hair off of her brow. The gentle and quiet woman I'd known and loved all my life was not experiencing a gentle end to her life.
Grandmother didn't survive her operation.
On the day of her death, I sat at the kitchen table across from my husband and did some moaning of my own.
After pushing my food around my plate as loss of appetite settled in, I set my fork down and asked my husband, "I wonder if Grandmother's recently renewed interest in God means she's in heaven. I can't imagine how horrible hell must be. The suffering she endured in the hospital was bad enough."
My husband listened. He had no words to offer. He more than likely knew I needed to hear from God Himself.
In my spirit, I reached out to my Heavenly Father. Surely, He had a word or two of wisdom and comfort for me.
As I sat there with a heart full of grief and pain, I felt a warm hand on my shoulder. I turned my head to see who it was. No one was there. Instantly peace replaced the pain I was carrying. God's presence filled me with joy and love more palatable than the cries that had come out of my suffering grandmother's mouth.
With one touch from God, I realized anew I can trust Him. Words weren't necessary for me to tap into His comfort.
In my suffering, the God of Comfort comforted my soul.
Seeking to trust God in our suffering is where peace amid pain is found.
Difficult questions don't have easy answers. In these situations, a gesture of grace from God is an especially gracious gift. Sometimes the best answers are wordless.
Sometimes trust is fueled by a simple touch of empathy and compassion. Sometimes there are no earthly explanations available.
Sometimes suffering is a glimpse through the window of heaven.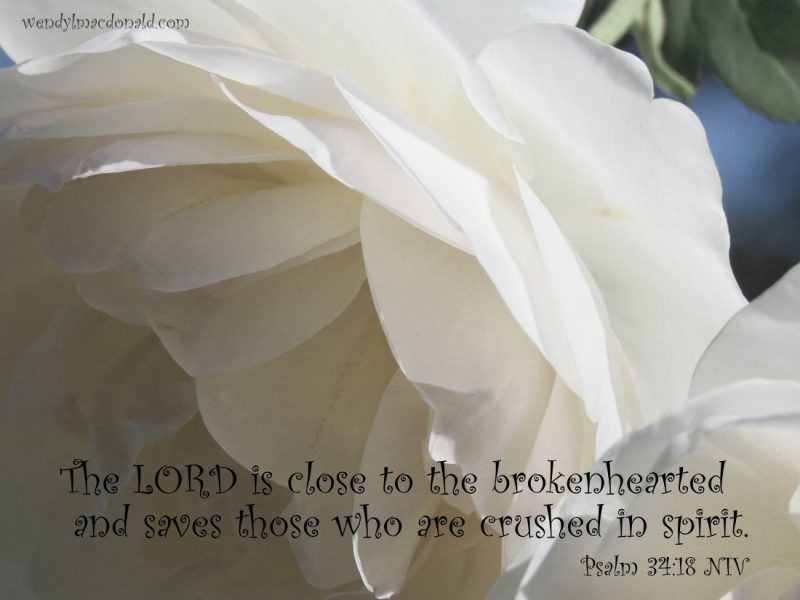 2 Corinthians 1:3-4 NIV says,
Praise be to the God and Father of our Lord Jesus Christ, the Father of compassion and the God of all comfort, who comforts us in all our troubles so that we can comfort those in any trouble with the comfort we ourselves have received from God.
I don't know why my grandmother suffered so much at the end of her life. I do know God is faithful. I do know He is able. I do know it profits us to keep trusting God when we witness suffering.
And now I'd like to close with a poem:
Oh God of compassion
who comforts the soul
with a gentle touch
more precious than gold
Oh God of Heaven
who soothes our pain
with Your gentle Presence
when we call on Your name.
~ wlm
Blessings of Comfort & Compassion ~ Wendy Mac
P.S. My grandmother loved roses. I have a fond memory of the rose garden my grandfather helped her create.