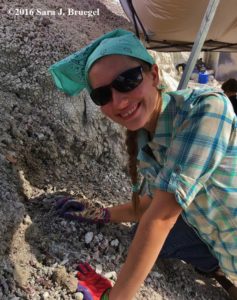 Wham-splat! The pick axe hit the muddy wall, then stuck there.  I pried it off and scooped off the wet, heavy chunk of clay into a debris bucket. Behind that chunk I noticed a rich variety of colors. Amid the mundane grays and browns, there were shades of a lovely sage green and nearly lilac purple.  They were quite stunning, but their colors really only showed when they were wet, either from being newly exposed to the air or after rain.  Once those chunks of color dried, they became much more muted, blending with the other colors around them and losing their vividness.
Digging through this mud was in some ways easier and in other ways more difficult than digging through the hardened mudstone of the Morrison formation, excavating dinosaur bones. It was a blessing that the rain decided to stay away from the dig site or only give us a light afternoon sprinkling during the weeks of the dinosaur dig.  I had heard many stories of what it was like trying to go up and down the steep hillside of the dig site after heavier rains.  The bentonite clay would not only feel thick and heavy on durable hiking boots, but also make that hill like an extremely slippery mud slide.  But, this clay also has a story to tell.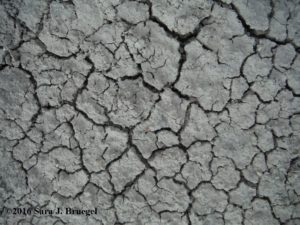 The dinosaurs buried here in the Brushy Basin part of the Morrison formation, same as Dinosaur National Monument in Utah, are surrounded by bentonite clay.  This clay comes from volcanic ash, formed shortly after the ash settled. Different parts of the Morrison formation have more or less of this volcanic ash, but the Brushy Basin has the most of it.  Finding this ash in the mudstone burying dinosaurs gives us some important clues to how these dinosaurs died and were buried – there must have been some kind of volcanic activity.  Like I mentioned in last week's article on the burial of these dinosaur bones (read the article Bone Mix), seeing this evidence of volcanic activity points towards the "fountains of the great deep" that broke up during the flood, like the Bible mentions in Genesis 7.
At this Colorado dinosaur graveyard there were many bones all jumbled up.  We see evidence of a violent death and sudden burial – some dinosaurs are still put together while other bones are thrown into the mix.  There are clues that point us to a disaster – ashes from a volcano.  Yet, seeing the way those striped rock layers looked from a distance at sunset, and the vivid array of colors up close in the clay I was thinking about how beautiful they were.  Yes, we see the destruction and judgement from the flood, sent by our perfectly good Creator because of sin, but we also see the miracle of God's tender mercy to turn even death and ashes around and make them into something spectacularly beautiful.  Truly, this green, purple, gray, and brown clay is literally beauty for ashes
"To console those who mourn in Zion, to give them beauty for ashes, the oil of joy for mourning, the garment of praise for the spirit of heaviness; that they may be called trees of righteousness, the planting of the Lord, that He may be glorified." ~Isaiah 61:3
Copyright Sara J. Bruegel, October 2016
Below is a short video showing what the clay is like very wet from a previous year – thank you to David Mikkelson for this video footage
References:
Keller, W.D. Clay Minerals in the Morrison Formation on the Colorado Platau. 1962. US Geological Survey Bulletin 1150.  Last Accessed 10-7-16. http://pubs.usgs.gov/bul/1150/report.pdf and extended abstract: http://www.clays.org/journal/archive/volume%207/7-1-293.pdf
Austin, Steven A. and Hoesch, William A. 2004. Dinosaur National Monument: Jurassic Park Or Jurassic Jumble?. Acts & Facts. 33 (4). Institute for Creation Research. Last accessed 10-7-16. http://www.icr.org/article/dinosaur-national-monument-park-or-jurassic-jumble/
Grim, Ralph E. and Wahl, Floyd M. Bentonite. McGraw-Hill Encyclopedia of the Geologic Sciences.  Page 53. 1978.