Does Genesis give us a hint on how old the earth is? Some would say that the early chapters of Genesis are poetry, but research on a certain type of verbs indicates that it's not poetical. As Andrew Kulikovsky aptly summarized, "In the case of Genesis 1:1-2:3, it was statistically classified as narrative with a probability of 0.9999. This is an extraordinary level of confidence that amounts to virtual certainty." [1]
Bernhard Anderson, Emeritus Professor of the Old Testament at Princeton, tries to separate Genesis 1 from the rest of the book: "There is increasing agreement that the creation account belongs to the genre of story, not history. Even conservative 'evangelical' scholars are moving in this direction …" [2] But how can he fit this idea with the clear historical flow of Genesis we see in the testimony of Abraham, Jacob and Joseph? Many of the opponents of traditional creation (Creation Week, Global Flood, young earth) have not done their homework. Here is a helpful list of creation journals and resources. The 10 toledoths ("generations," "historical account") in Genesis appear at the end of a section. These tie the book into a unified whole and prove its real historical character.
There are at least 100 quotations or direct references to Genesis 1-11 in the New Testament and in each case it's treated like a record of real events, not poetry.
During Creation Week there are days of forming and days of filling, but this does not argue against the literal reading. When we make things, we do so in an orderly manner. Building a house involves days of forming and days of filling. We are God's image-bearers and imitate the work of Creation Week. When we build a house we do so in an orderly manner – first the foundation (with electric and plumbing lines), then the framing, windows, skylights, insulation, drywall, roofing and siding. We put plants, pets, an aquarium, ceiling fans and maybe some reptiles on the inside of the house – a virtual jungle. Even Gerhard von Rad admitted that, "The seven days are unquestionably to be understood as actual days and as a unique, unrepeatable lapse of time in the world." [3]
The chronology of Genesis 5 and 11 shows that mankind is around 6,000 years old – there are no gaps. Christians who take Genesis as historical narrative should understand scripture as teaching creation in six standard days about six thousand years ago. Francis Turretin (d. 1687) proclaimed, "Nor does the sacred history written by Moses cover any more than six thousand years …" [4]
Notes:
1) "Higher Critical Hogwash" by Andrew Kulikovsky, Journal of Creation, Vol. 22, No. 3, 2008, p. 33, emphasis added.
2) quoted in Kulikovsky, emphasis added.
3) quoted in "Can Deep Time Be Embedded in Genesis?" by Trevor Craigen in Coming to Grips with Genesis ed. by Terry Mortenson and Thane Ury (Master Books, Green Forest, AR, 2008), p. 203.
4) quoted in "A Brief Overview of the Exegesis of Genesis 1-11: Luther to Lyell" by David Hall in Coming to Grips with Genesis ed. by Terry
Mortenson and Thane Ury (Master Books, Green Forest, AR, 2008), p. 71.
---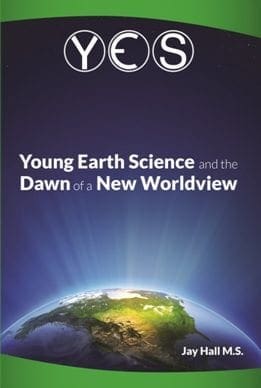 Read Jay Hall's book:
YES – Young Earth Science and the Dawn of a New World View
What is Young Earth Science (YES)? How old is the world? Are radiometric dating methods reliable? Is Darwinism substantiated by scientific evidence and valid arguments? How does the Renaissance of Catastrophism relate to the age of the Earth? Has plate tectonics occurred more rapidly in the past? These and other queries are answered in this exciting new fully documented work. This widely illustrated book features support from history, philosophy, geology, biology and physics. Discover this creative and multidisciplinary approach which provides affirmation that this planet is thousands of years old and not billions . . . (continue reading)