See it on the Big Screen!
Back by popular demand, on February 22 bring your friends or a group to learn more about the truth in Genesis. The Anniversary Event will include a fascinating new segment with Del Tackett and three college students as they tour the Ark Encounter.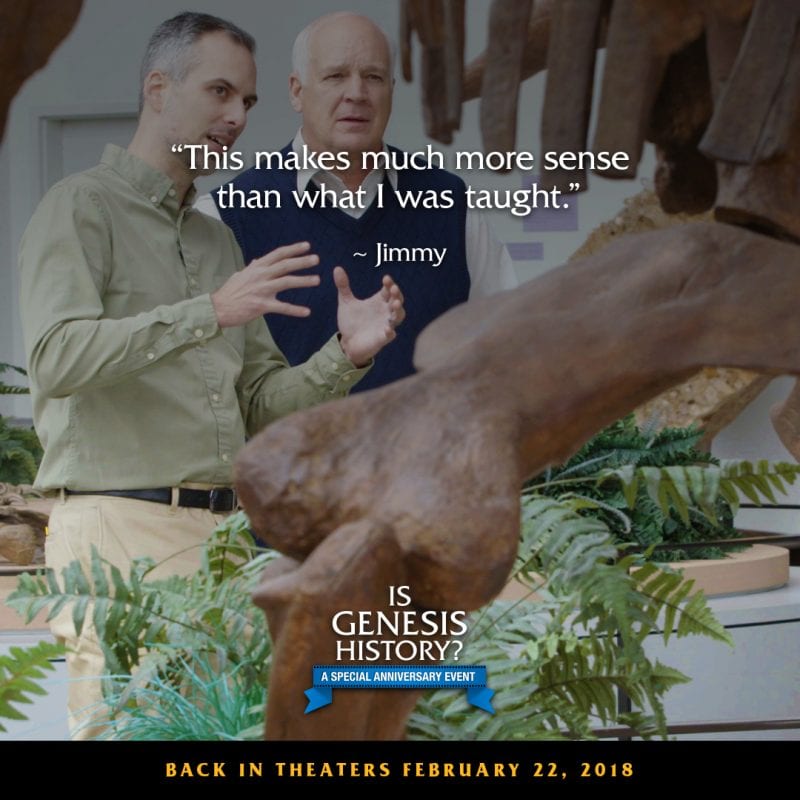 About the Movie
More than a Documentary
The film is the first step on a journey toward understanding the history of the Earth according to Genesis. Follow Del Tackett as he travels across the continent with over a dozen
scientists and scholars
 to see fascinating new evidence for creation and a global flood.IS GENESIS HISTORY? is a fascinating new look at the biblical, historical, and scientific evidence for Creation and the Flood. Learn from more than a dozen scientists and scholars as they explore the world around us in light of Genesis.
Find Theaters & Bring Your Group
Your Guide
Dr. Del Tackett, the creator of "The Truth Project," invested a year traveling to the right places to ask the right questions of the right people for the new documentary IS GENESIS HISTORY
Experts, Topics, and Locations
From geology to biology to astronomy to archeology and beyond, explore how the data we see around us is best explained by the events recorded in Genesis. Scientists, theologians, and philosophers are interviewed in locations that illustrate the intersection of history, science, and the Bible.
CLICK BELOW TO LEARN MORE AND WATCH THE TRAILER FOR "Is Genesis History"
A ONE-NIGHT EVENT IN THEATERS THURSDAY, FEBRUARY 22 ONLY