This week, often on November 11, many people across the world set aside a day to remember the soldiers who gave their lives for freedom. This day is known as Veterans Day in the United States, Armistice Day other places (to commemorate the signing of the Armistice that ended the fighting of World War I), and Remembrance Day in my home country of Canada.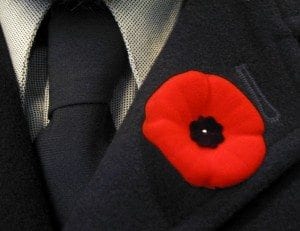 During World War I a Canadian physician and artillery commander named Major John McCrae was serving in France. There he penned the words to a now famous poem, "In Flanders Fields." This poem features the red poppy prominently as a symbol for the blood spilled by millions of soldiers. In 1921 Canada adopted the poppy as a symbol of remembrance and now, each year in November, Canadians proudly display a brilliant red poppy over their heart.
The poppy is not only a visual reminder of those who gave the ultimate sacrifice for our freedom, but it is also a vivid reminder of the loving care of our Creator. There are many different species of poppy ranging in colour from blood red to a sunny yellow to deep blue. Some species produce edible seeds which have been used for many different purposes down through the ages. Poppy products can be used in paint, varnishes, soaps, and even cosmetics. Poppy seeds can be eaten and are rich in carbohydrates, calcium, and protein. They can be used as birdseed, or used in baking, or can even be ground into flour. Oil can also be extracted from the seeds and used in salad dressing, margarine, and cooking. Most important, poppy seeds from certain species serve as pain killers. They are the source of opium (an illegal drug in most places), morphine, heroin, and codeine. While many of these drugs are misused, they have all served as important pain-killers throughout history. For example, ancient Egyptian doctors would feed poppy seeds, or juice from the seed pod, to their patients as a measure for pain control or as a sedative to help them sleep. Ancient Greeks also used opium to help control pain. Morphine from poppies is still used today to alleviate pain. 
This little flower shows the care of our Creator. Originally, He created everything perfect (Genesis 1:31) but sin introduced death, suffering, and disease onto the planet. God knew that sin would cause mankind to suffer from different forms of intense pain so He provided us with a little plant to help control that pain. However, like anything God has made, sinful mankind often abuses His gifts and sadly one result of this abuse is drug dependency and the illegal drug trade. When used properly, morphine and other legal drugs derived from poppy seeds, can help someone control their pain and focus their body's energy on healing itself. What an amazing example of God's foresight and care for His creation!
This week as we remember soldiers who gave their all, let's set aside time to also remember our Creator who came to earth and truly gave it all that we might have eternal freedom from death and sin.
In Flanders fields the poppies blow
Between the crosses, row on row,
That mark our place; and in the sky
The larks, still bravely singing, fly
Scarce heard amid the guns below.
We are the Dead. Short days ago
We lived, felt dawn, saw sunset glow,
Loved and were loved, and now we lie
In Flanders fields.
Take up our quarrel with the foe:
To you from failing hands we throw
The torch; be yours to hold it high.
If ye break faith with us who die
We shall not sleep, though poppies grow
In Flanders fields.