In Part 1 of this series we viewed testimony from the creator of the cell lines known as HEK 293 and PER.C6, Dr. Alex van der Eb, regarding their origin in two completely healthy electively aborted babies. This was important to establish since some of the prospective COVID-19 vaccine candidates are derived from one of these two cell lines. Now we will turn to identifying the COVID-19 vaccine candidates that are known to be derived from these morally and ethically problematic cell lines.
The Vaccine Candidates
According to the Milken Institute, a nonprofit, nonpartisan think tank, as of the June 9th COVID-19 vaccine tracker tally, there were 161 vaccines in development for COVID-19. Clearly we don't have the time or space to discuss each and every one of these in this article. However, by examining some of the front runners, hopefully the concerned consumer will be better equipped to evaluate potential candidates on their own.
The five candidates listed below either utilize technology based on or contain aborted fetal DNA.
I have set the terms "HEK 293" and "PER.C6" in bold in the excerpts below for the purpose of attracting attention. These are not bold in the original sources.
The National Institute of Allergy and Infectious Diseases (NIAID), directed by Dr. Anthony Fauci, has partnered with the biotechnology company Moderna for the manufacture of this vaccine. "NIAID scientists designed the stabilized spike antigen based on previous knowledge obtained from studying other coronavirus spike structures." This "messenger RNA (m-RNA) vaccine…directs the body's cells to express the spike in its prefusion conformation to elicit an immune response." The listed source for the SARS-coV-2 spike glycoprotein is HEK 293.

"Ad5-nCoV is a genetic engineered vaccine candidate with the replication-defective adenovirus type 5 as the vector to express SARS-CoV-2 spike protein, which intends to be used to prevent the disease caused by the novel coronavirus infection, the company said in its filing. Ad5-nCoV is built upon CanSino BIO's adenovirus-based viral vector vaccine technology platform…" This Chinese Biologics firm is in collaboration with the National Research Council of Canada. According to the National Research Council Canada, "The relationship between the NRC and CanSinoBIO was first established in 2013. The NRC's HEK 293 cell line was later licensed to CanSinoBIO and used in the development of an approved vaccine against the Ebola virus. The new COVID-19 vaccine is also produced using HEK 293 cell lines that were designed and developed at the NRC."
University of Oxford/Jenner Institute Collaboration ChAdOx1nCoV-19:
"The Oxford University team's experimental product, called 'ChAdOx1nCoV-19,' is a type of immunisation known as a recombinant viral vector vaccine…" The following excerpts from this article in PLoS One identify this vaccine's association with HEK 293: "This study describes the derivation of a new vaccine vector based on a chimpanzee adenovirus, Y25…" "The wild type chimpanzee adenovirus isolate Y25 was originally obtained from William Hillis, John Hopkins University of Medicine. The virus was passaged in HEK293a cells (Invitrogen, Cat. R705-07) and purified by CsCl gradient ultracentrifugation as previously described." "The low seroprevalence of vector neutralising antibodies against Y25 suggest that new vectors based on this virus are likely to be efficacious in a clinical setting. To this end, vector ChAdY25-E has been renamed ChAdOX1 for use in forthcoming clinical trials."
University of Pittsburgh's PittCoVacc:
"Scientists at UPMC and the University of Pittsburgh School of Medicine have announced a potential vaccine against SARS-CoV-2…The vaccine is delivered through a fingertip-size skin patch. The research team calls this vaccine PittCoVacc, short for Pittsburgh Coronavirus Vaccine." As this article, "Microneedle array delivered recombinant coronavirus vaccines," published in the Lancet indicates, "For expression of recombinant proteins, rSARS-CoV-2-S1 and rSARS-CoV-2-S1fRS09, 293HEK cells were transfected by electroporation (Celetrix)."
Johnson & Johnson's candidate from Janssen Pharmaceutical:
"Johnson & Johnson… announced the selection of a lead COVID-19 vaccine candidate from constructs it has been working on since January 2020; the significant expansion of the existing partnership between the Janssen Pharmaceutical Companies of Johnson & Johnson and the Biomedical Advanced Research and Development Authority (BARDA)…BARDA, which is part of the Office of the Assistant Secretary of Preparedness and Response (ASPR) at the U.S. Department of Health and Human Services, and Johnson & Johnson together have committed more than $1 billion of investment to co-fund vaccine research, development, and clinical testing." As Janssen Vaccine Technologies explains, "The SARS-CoV-2 vaccine research program is leveraging Janssen's AdVac and PER.C6 technologies in an effort to help combat the current COVID-19 pandemic… In order to produce high concentrations of Janssen's AdVac vector they are produced in Janssen's PER.C6 complementing cell line, which supports the production of our replication incompetent adenovirus vectors."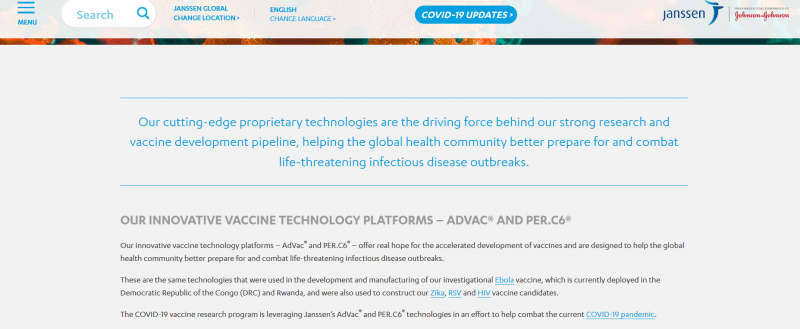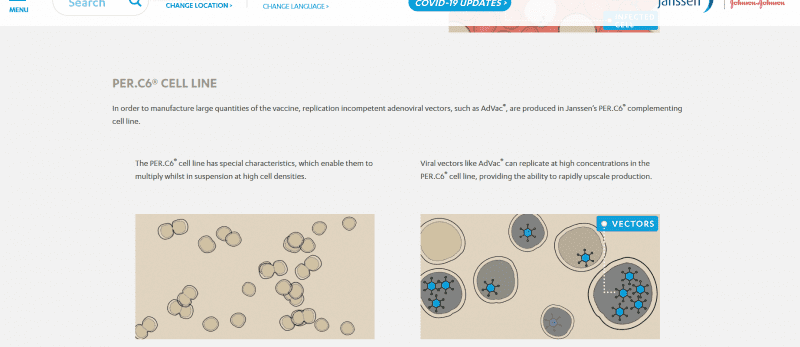 As you can see, sometimes it takes a good bit of reading into jargon-laden press releases and studies, but if you know the key phrases you're looking for such as "adenovirus vectors,"  and of course, "HEK 293," and "PER.C6," your search won't be in vain.
The following vaccine candidates are examples of those that appear to be sourced ethically:
This candidate is different from the others in that it isn't actually injected. It is DNA based and delivered via a "smart device" Inovio calls "CELLECTRA 3PSP." "INOVIO has demonstrated that DNA medicines can be delivered directly into cells in the body via a proprietary smart device to safely produce a robust immune response in clinical trials involving more than 2,000 patients in 6,000 administrations."
Sanofi Pasteur is working on 2 candidates:
According to Reuters, one Sanofi candidate is being developed in collaboration with "…U.S.-based Translate Bio Inc" which is "based on messenger RNA (mRNA) technology."It appears to be cell free.
The other candidate is developed using a technology Sanofi also used for an egg-free flu vaccine described in S & P Market Intelligence as, "…produced using baculovirus technology in cells from the Spodoptera frugiperda, or the fall armyworm, a caterpillar."
An Additional Complicating Factor
An unexpected additional way a vaccine candidate can be associated with the abortion industry even when the vaccine itself isn't derived from an aborted fetal cell line is via a special type of genetically modified mouse that is utilized in some COVID-19 vaccine safety testing. This information can be more difficult to track down and is not an issue for all vaccine candidates. As this NPR article points out, "Some labs are not waiting for mice. Because of the pressure to produce a vaccine quickly, several biotech companies are breaking the usual protocol and are skipping animal testing." Other labs, "are experimenting with ferrets and monkeys for this virus…" However, for those that prefer mice a genetic modification must be made:
researchers can't use ordinary mice. That's because coronavirus doesn't make mice sick. Humans have to genetically engineer them to be susceptible to the virus.
This FDA contract document obtained by CNS News explains that aborted fetal tissue is necessary to create these "humanized mice":
The Government intends to solicit and negotiate directly with Advanced Bioscience Resources (ABR) Inc. and no solicitation will be issued. The objective is to acquire Tissue for Humanized Mice. ABR is the only company that can provide the human fetal tissue needed to continue the ongoing research being led by the FDA. Fresh human tissues are required for implantation into severely immune-compromised mice to create chimeric animals that have a human immune system. This human immune system allows us to test biological drug products for safety and efficacy. This is necessary because these drug products do not bind non-human species drug targets.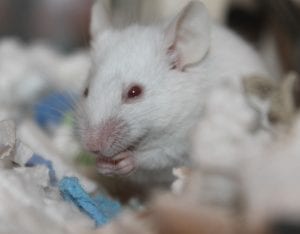 Call to Action
It is my hope that this information has outraged my fellow pro-lifers and left you anticipating suggestions for how to take a stand for life and become part of the solution! I encourage all of you to become vocal educators in your communities. Share what you know with your family and friends, your Pastors, and church leadership. Be inspired by the U.S. Council of Bishops and draft a letter to the FDA, President Trump, Vice-President Pence, and Alex Azar. Encourage your churches to draft letters representing their membership corporately. Answer the call of Bishop Stickland from Tyler, Texas:
I urge you to join me, NOW, in passionately but prayerfully speaking out against this practice!
In the words of Dr. Stacy Trasancos, Executive Director of the St. Philip Institute:
If we stand with Bp. Strickland and let it be known that we will refuse a vaccine made from the exploitation of aborted children, then we can influence the research, development, and market. I don't want to find myself a year from now being forced to accept an immorally produced vaccine knowing that I did not speak up when I had the chance. I won't leave that legacy to my children and grandchildren. Bishop Strickland is asking us all, the entire human race, to stand up with him and say, 'I will not kill children to live.'
[Editor's not: There are varying and passionate views regarding this topic. Dr. Rob Carter has also written his thoughts on the topic of aborted fecal cells being used in vaccines HERE. As always, the views expressed on this site reflect the individual author's opinion.]