I tried to breath as quietly as possibly, as mixed anticipation and excitement in the room grew. Suddenly, amid the other sounds of labor and childbirth, the first cry of a little baby reached my ears. Hearing that first cry of my newborn niece, I was overwhelmed with relief and joy! It meant that after a long night of labor in a snow storm, the baby we'd been waiting for was here and breathing like she should. It was an irreplaceable moment featuring a breath-taking (or rather, breath-GIVING) symphony of miracles. When my niece was born, took her first breath and let out a cry, her whole world completely changed, including vital functions of the body.
Think about it: this baby lived for about nine months completely surrounded by water. She didn't breathe until after exiting her first water home. This baby was definitely not anything like a fish at any stage – she was fully human all along. Today, she uses her lungs to take in oxygen, and her heart pumps blood that circulates that oxygen all through her tiny body. Before she was born and filled her lungs with that first breath, oxygen came to the baby through her umbilical cord that was attached to her placenta. I like to think of the placenta as the baby's "life box", filtering everything the baby needs from her mother and customizing it to her own little body.
Because oxygen came to the baby through her belly button instead of her lungs, her circulatory system was wired differently before birth. One of these differences is a special bypass around the liver to the heart so that oxygen can have a direct route, getting to the baby's brain quickly and efficiently to help her develop. You may have heard of a baby who had a "hole in his heart" when born. I wondered, "how did a hole get there?!" the first time I heard of something like that happening. Actually, in the womb, babies are supposed to have a special trap-door hole between the right and left side of the heart because blood flows through the heart differently before they're born. When my little baby niece started to breath, it sent chemical signals through her body that told that trap door to close. A few days after her birth, that trap door is sealed and her heart works normally for life outside.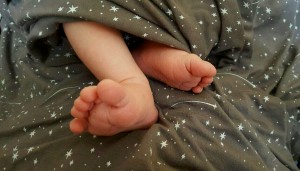 Yes, that first breath truly is a miracle. It completely changes the way blood flows through the baby's body – including her tiny heart. It's easy to worry about the endless list of things that could go wrong throughout pregnancy, birth, and infancy. But the fact that anyone ever simply lives through all of that is a miracle of the continual grace of God. The day after my precious little niece was born, a few tears began to well up in my eyes during one of the songs:
"No guilt in life, no fear in death, This is the power of Christ in me;
From life's first cry to final breath, Jesus commands my destiny.
No power of hell, no scheme of man, Can ever pluck me from His hand:
Till He returns or calls me home, Here in the power of Christ I'll stand"

~ In Christ Alone, by Stuart Townend & Keith Getty~
It was beautiful – but not quite accurate. Yes, the first breath is a phenomenal, life-changing event, but I know that my God is in control long before that first cry and for eternity after that final breath. Our Creator is not some distant, mystical force who created us and left us here to fend for ourselves. He beautifully orchestrates the life of every person, long before birth. He is good, and I know that I can simply trust and follow Him every step of the way.
"For Thou hast possessed my reins: Thou hast covered me in my mother's womb.  I will praise Thee; for I am fearfully and wonderfully made: marvelous are Thy works; and that my soul knoweth right well" ~ Palm 139:13-14

---

"Now unto Him that is able to keep you from falling, and to present you faultless before the presence of His glory with exceeding joy, to the only wise God our Savior, be glory and majesty, dominion, and power, both now and forever.  Amen" ~ Jude 24-25
Copyright Sara J. Bruegel, January 2016
Reference: