I became a Christian as a teenager. At the time, I had already been taught in public school that evolution was the way the world was created.  I didn't really think much about who created the world; I just took the scientific viewpoint of evolution as the truth.
When in college, I attended a chapel presentation about faith and science.  The speaker was one of my favorite professors.  He stated that faith explains who created the world, and science explains how.  According to this point of view, faith and science were not in conflict.  It made sense to me at the time. I could still regard evolution as truth and believe in God.  It seemed like a good compromise.
Years later, I again found myself in a denomination that advocates for belief in "theistic evolution."  Theistic evolution is the term for what I call the "compromised position." It says, in essence, that God used evolution to create the world.  At the time, I was actually studying ministry in this denomination.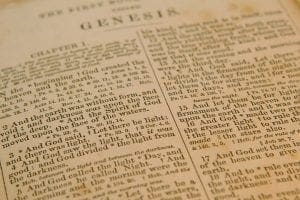 One day, I found myself lying flat on the floor, praying to God.  I was very earnestly seeking the truth about His Word. I felt a deep sense of responsibility to teach others the truth about God.  I had studied Biblical Hebrew, New Testament Greek, and Inductive Bible Study by that time.  God had equipped me to wrestle with His Word and teach others, so I had "head knowledge." However, I knew there was something else I needed.
I believe the Holy Spirit led me to a verse in the Bible that helped change the way I looked at the world.  Every Word of God proves true (Proverbs 30:5).  This was a starting point in my journey to truth.  Since every Word of God is true, what does that say about the word of the world?  If I regard the world's "truth" as superior to God's Word, do I really believe that God's Word is true? If I accept the Bible as true regarding the creation account, then evolution cannot be true.  Nowhere in God's Word does it say that humans evolved from animals. Nowhere!
Now I know some people would argue that the creation account is not literal.  However, upon examining the text in its original language of Hebrew, there is nothing to indicate that the creation account is NOT literal.  In fact, the book of Genesis is historical literature, that is, the book contains a series of events.
So, what is the problem? The problem is that Christians have become so influenced by the world they have accepted compromised positions regarding the creation of the world and other issues.  The world believes God did not create the world in the way He said He did, and many Christians are uncomfortable with contradicting the world.  Even Jesus Himself referred back to Genesis and the creation account.  As a Christian, I am a Christ-follower.  If Jesus regarded the creation account as true, then shouldn't I? Shouldn't all Christians?
Some would say, "Science has proved evolution to be true." Well, there are many problems with this statement.  First, evolution is not a scientific theory but a historical theory.  That is really where the conflict lies between evolution and faith.  Evolution states everything was created over millions and billions of years.  The Bible states God created everything in six days. Second, evolution cannot be proven by the scientific method.  Why? Because it cannot be observed and carried into a laboratory for testing.  Again, it is just a theory.  Actually, science confirms the Bible.  For example, we can observe rock formations that could only have been made by water during a catastrophic event, the Global Flood.
Still, there are those who insist on believing the compromised position of theistic evolution.  It is a nice and neat position, so to speak, because to Christians who advocate and believe this, it fits within their faith the science they believe to be true.  They do not have to appear scientifically ignorant if they say God used evolution.  I know there was a point in my life where I did not want to look ignorant about science.  However, in the process of the Holy Spirit's convicting me about this issue, I learned I would rather be ignorant about man's word than God's Word.  The Spirit opened up my eyes to the Scriptures in a whole new light.  All of a sudden, it just dawned on me that God wants me to love Him with all my mind (Luke 10:27).  That is not to say that I do not study or seek the truth.  In fact, loving God with my mind means that I seek His truth even more, and I value the truth of His Word over what people might say about an issue.  I am not afraid to stand on the Word of God, even it makes me appear ignorant to other people.  There are some issues in which there should be no compromise.
I do not expect everyone who reads this to agree with me.  For me, it took God opening my eyes to the truth about His creation.  He worked on my heart and my mind.  I know that some people do not like "Creationists" because they think Creationists should not use science to try to prove that the Bible is true.  However, these are some of the same people who try to use science to supposedly prove that the Bible is not true.  In my experience, it took the enlightenment of the Holy Spirit to see that God's Word is true, and is superior to worldly wisdom.  Seeking God's Kingdom first also involves putting His truth first (Matthew 6:33).  I am amazed to see how placing His truth about creation first in my life has changed my viewpoint on living a Christian life.  I do not have all the answers about everything, and I am still far from perfect, but I know I was created in the image of God, and I was created for a purpose.  I also know I am to love God with all of my heart, soul, mind, and strength.