[Excerpted from RSR's List of Not So Old Things]
By a knee-jerk reaction evolutionary scientists assign ages of tens or hundreds of thousands of years (anything long enough to contradict Moses' chronology in Genesis). However, with closer study, we routinely see more and more old ages get revised downward to fit the world's growing scientific knowledge. So the trend is not that more information lengthens ages, but rather, as data replaces guesswork, ages tend to shrink until they are consistent with the young-earth biblical time frame.
National Geographic's Not-So-Old Hard Rock Canyon at Mount St. Helens:
Consistent with this observation, the May 2000 issue of National Geographic quotes the U.S. Forest Service's scientist at Mount St. Helens, Peter Frenzen, describing the canyon on the north side of the volcano.
You'd expect a hard-rock canyon to be thousands, even hundreds of thousands of years old. But this was cut in less than a decade.
And as for the volcano itself, while again, the knee-jerk reaction of old-earthers would be to claim that most geologic features are hundreds of thousands or millions of years old, the atheistic National Geographic magazine acknowledges from the evidence that Mount St. Helens, the volcanic mount, is only about 4,000 years old! See more at rsr.org/mount-st-helens.
Devils Hole Pupfish Isolated Not for 13,000 Years But for 100:
Secular scientists default to knee-jerk, older-than-Bible-age dates. However, a tiny Mojave desert fish is having none of it. Rather than having been genetically isolated from other fish for 13,000 years (which would make this small school of fish older than the Earth itself), according to a paper in the journal Nature, actual measurements of mutation rates indicate that the genetic diversity of these Pupfish could have been generated in about 100 years, give or take a few.
Polystrates, such as Spines and Schools of Fossilized Jellyfish: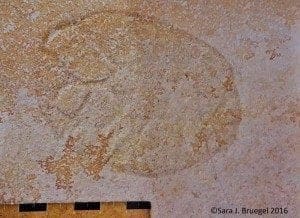 Previously, seven sedimentary layers in Wisconsin had been described as taking a million years to form. And because jellyfish have no skeleton, as Charles Darwin pointed out, it is rare to find them among fossils. But now, reported in the journal Geology, a school of jellyfish fossils have been found throughout those same seven layers. So, polystrate fossils that condense the time of strata deposition from eons to hours or months, include:
Polystrate Trees:
Examples abound around the world of polystrate trees:
Yellowstone's petrified polystrate forest (with the NPS exhibit sign removed; see below) with successive layers of rootless trees demonstrating the rapid deposition of fifty layers of strata.
A similarly formed polystrate fossil forest in France demonstrating the rapid deposition of a dozen strata.
In a thousand locations including famously the Fossil Cliffs of Joggins, Nova Scotia, polystrate fossils such as trees span many strata.
These trees lack erosion: Not only should such fossils, generally speaking, not even exist, but polystrates including trees typically show no evidence of erosion increasing with height. All of this powerfully disproves the claim that the layers were deposited slowly over thousands or millions of years. In the experience of your RSR radio hosts, evolutionists commonly respond to this hard evidence with mocking. See CRSQ June 2006, ICR Impact #316, and RSR 8-11-06 at KGOV.com.
Yellowstone Petrified Trees Sign Removed:
The National Park Service removed their incorrect sign (see left and more). The NPS had claimed that in dozens of different strata over a 40-square mile area, many petrified trees were still standing where they had grown. The NPS eventually removed the sign partly because those petrified trees had no root systems, which they would have had if they had grown there. Instead, the trees of this "fossil forest" have roots that are abruptly broken off two or three feet from their trunks. If these mature trees actually had been remnants of sequential forests that had grown up in strata layer on top of strata layer, 27 times on Specimen Ridge (and 50 times at Specimen Creek), such a natural history implies passage of more time than permitted by biblical chronology. So, don't trust the National Park Service on historical science because they're wrong on the age of the Earth.