Does your fellowship sing songs glorifying the Lord as Creator of the Cosmos?  Do your hymns mention God's work during Creation Week?  Are there choruses that speak of the Fall and the Curse?  What about the Flood or the Tower of Babel?  I'm sure you are familiar with these words, for example:
All creatures of our God and King

Lift up your voice and with us sing,

Alleluia! Alleluia!

Thou burning sun with golden beam,

Thou silver moon with softer gleam!

– St. Francis of Assisi
A number of Psalms emphasize creation: Ps. 8, Ps. 19, Ps. 33, Ps. 100, Ps. 124, Ps. 149 etc.  For a more complete list see the references here.  Nicole Mullen's tune "My Redeemer Lives" provides a strong creation message.  In one performance she recited Psalm 8 before she sang this song.  There is a great music CD, Creation – The Story of Life featuring such artists as Mark Harris, Billy Sprague, Cindy Morgan, Larnelle Harris, Greg Long, Bob Carlisle and Lisa Bevill.  Possibly the most popular song at creation conferences is "How Great Thou Art."  Consider these selections from Gadsby's Hymns:
The spacious earth and spreading flood

Proclaim the wise, the powerful God;

And thy rich glories from afar

Sparkle in every rolling star. (#18)

When Adam by transgression fell,

And conscious, fled his Maker's face,

Linked in clandestine league with hell,

He ruined all his future race:

The seeds of evil once brought in,

Increased and filled the world with sin. (#89)

Father, how wide thy glory shines!

How high thy wonders rise!

Known through the earth by thousand signs,

By thousands through the skies!

Those mighty orbs proclaim thy power;

Their motion speaks thy skill;

And on the wings of every hour,

We read thy patience still. (#207)

All creatures to his bounty owe

Their being and their breath;

But greatest gratitude should flow

In men redeemed from death. (#834)

Noyes Fludde (Noah's Flood) is a 15th century "mystery play" and in 1957 Benjamin Britten turned it into an opera.  Here is the "Third Pageant" of Noyes Fludde (with modernized words):
I, God, that all this world hath wrought,

heaven and earth, and all of nought,

I see my people in deed and thought

are set foul in sin …

Man that I made will I destroy,

beast, worm, and fowl to fly …

Therefore Noah, my servant free,

that righteous man art as I see,

a ship son thou shalt make thee …
Homeschooler Jodi Benson (the Little Mermaid) sang a song for children about the Tower of Babel.
Keep from me Thy loveliest creature, till I prove Jesus' love infinitely sweeter
– Charles Wesley (prolific hymnwriter)
O Lord, our Lord, How excellent is Your name in all the earth, Who have set Your glory above the heavens! (Ps. 8:1)
---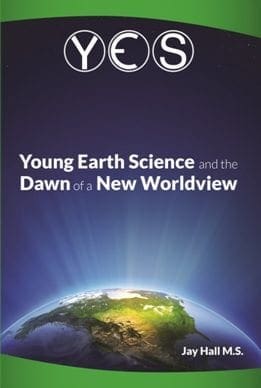 Read Jay Hall's book:
YES – Young Earth Science and the Dawn of a New World View
What is Young Earth Science (YES)? How old is the world? Are radiometric dating methods reliable? Is Darwinism substantiated by scientific evidence and valid arguments? How does the Renaissance of Catastrophism relate to the age of the Earth? Has plate tectonics occurred more rapidly in the past? These and other queries are answered in this exciting new fully documented work. This widely illustrated book features support from history, philosophy, geology, biology and physics. Discover this creative and multidisciplinary approach which provides affirmation that this planet is thousands of years old and not billions . . . (continue reading)