Have you ever thought about why God confused the languages of mankind at Babel? I think a lot of people see it as a sort of judgment, and perhaps it was in part, but I think there's another aspect that we often fail to recognize.
Before the flood, all of mankind had a single language1 and were descended from a single man and woman.2 They were one big family. They had a common culture – just one culture for all of mankind. We don't know precisely how many people there were on earth by the time of Noah's flood. It could easily have been millions. We don't know how many cities they lived in. It might have been many. But they shared a common culture. They were one nation.
We know from the Bible that while God judges each of us individually based on our actions, He also judges nations.3 When He acted in judgment upon various nations throughout history, there might have been some innocents there who also experienced the judgment, but it was because their culture was corrupt.
People are, and have always been, very strongly influenced by their culture. While there are sometimes a few who resist the culture in order to stand on principle, they are usually quite rare. Cultural values, norms, and traditions are pervasive and affect how people think. So when a culture goes bad, the people usually go bad with it. Since cultures are created by fallible humans, they all go bad eventually.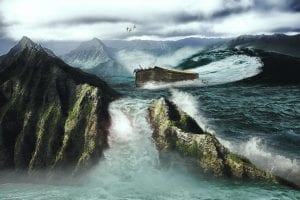 That is what happened before the Flood. The antediluvian culture went bad and the people went bad right along with it. Scripture tells us that "the wickedness of man was great on the earth, and that every intent of the thoughts of his heart was only evil continually."4 So God sent judgment on that culture which resulted in wiping out every person on the planet, except Noah and his family, in a global flood.5 Just eight people, out of millions, were saved, and humanity had to start over. After the Flood, God gave a promise to Noah and, by extension, to all of humanity that He would never again flood the entire earth or destroy all creatures.6
That is the backstory. That is the setting we must consider when discussing God's reasons for the confusion of languages at Babel. A bad culture leads people astray into wickedness that necessitates judgment. A single culture turned the pre-Flood people away from God and resulted in global destruction.
Thus, when God told Noah and his family to populate the earth,7 He wanted them to spread out for a reason. He wanted different groups in different regions to develop different cultures so that when one goes bad, it doesn't spread to all of humanity again. God had a promise to keep, and keeping that promise meant that blatant evil needed to be quarantined so it didn't infect all of humanity.
Yet despite God's command, the people gathered together in one culture and started building a tower and a city.8 Having a common symbol to unite them and a common family identity would have recreated the same conditions that led to global judgment before. The most merciful thing God could do in such a situation was to save humanity by dividing it.
God gave the people different languages according to family units.9 Each husband, wife, and their young children had a common language, but they could not understand other families. This inability to understand one another drove them apart to found their own cultures in different parts of the world. God's goal was accomplished.
While it might have also been partially justice that motivated God to separate different people groups with different languages, it was primarily mercy. Their separation allowed protection for mankind so that they would never be destroyed all at once again. God did judge individual nations who declined into blatant evil, but because mankind was divided, this did not necessitate a global judgment. Furthermore, God chose a particular nation – the Israelites – to serve as the means by which He would give His word to mankind and, ultimately, through them bring the Savior.
The book of Genesis is a history book that gives us a perspective on the world that we would not have otherwise. Those who doubt the historicity of Genesis have a harder time explaining the world as it exists now. The common ancestry of all humans, the many languages we speak, and the distinct cultures we find all over the world fit very well with what we are told in Genesis. In addition to its history, Genesis also gives us a picture of God's justice, mercy, and grace. Through Genesis we learn that God judges wickedness, but also that He acts mercifully toward mankind. The cultures and languages that divide us are a testimony to God's mercy on us and His faithfulness to fulfill His promises.
Genesis 11:1
Genesis 3:20, Acts 17:26, Romans 5:12-15
Genesis 15:14, Deuteronomy 8:20, Psalm 67:4, etc.
Genesis 6:5, NASB
Genesis 6:17-18
Genesis 8:21 & 9:11-15
Genesis 9:7
Genesis 11:1-4
Genesis 10:31-32