Radiometric dating can take a number of different forms. In most cases, it involves measuring certain radioactive isotopes and their daughter products and a fairly simple half-life calculation which tells us how long it would normally take, at current rates of decay, to produce the known amount of daughter product. This part is all quite straightforward, but there are some assumptions that go into radiometric dating.
One of the major assumptions is that the rate of radioactive decay has always been the same. It's an understandable assumption because the rate of decay is primarily a function of physics and it is reasonable to assume that physical laws do not vary.
However, we do have evidence from conflicting "clocks" that while extensive amounts of radioactive decay have occurred, they did not take the usual amount of time we would expect from today's rates. This evidence indicates that the rate of decay was much faster at some point in the past.
For example, we know that during the formation of zircon crystals, the crystal lattice excludes lead, but can incorporate uranium. Zircon crystals form a good system for radiometric dating because uranium decays to lead and we have good evidence that lead would not be found in zircon crystals at their formation. Thus, any lead in a zircon crystal would have come from the decay of uranium to lead rather than being present from the start.
In addition to this, the decay of uranium to lead causes alpha particles to be given off by the decaying nucleus. Alpha particles are composed of 2 protons and 2 neutrons and are the same thing as the nucleus of a helium atom. This is important in two ways.
First, the ejected particle causes discernible damage to the crystal structure which can be seen as fission tracks. These help verify that the lead present in the crystal was formed from the decay of uranium because if it had been there already, during the crystal formation, there would be no fission tracks.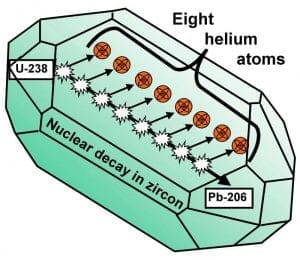 Second, the alpha particles pick up free electrons to become normal helium atoms. Helium is inert and thus does not react with other substances. It is also a very small and light atom that diffuses rapidly out of the crystals. At known rates, during normal radioactive decay, the rate of helium diffusion is faster than the rate of production. It should never be able to build up. Think of pouring water into a bucket with a hole in it. If the hole is big, you can pour water in and the bucket will never be full because it pours out the hole as fast as you are pouring it in. Zircon crystals are like a bucket with a big hole in it when it comes to helium because the helium leaves as fast as it is produced at normal rates of production.
However, what we find is that these zircon crystals not only have lots of lead and fission tracks, indicating that a lot of radioactive decay has occurred, but they also have a lot of helium built up inside the crystal. That shouldn't be able to happen if radioactive decay has always occurred at today's rates. So we have two conflicting molecular clocks in the same zircon crystals. One clock says a lot of decay occurred because there's lots of daughter product, which would usually take millions of years to produce. The other clock says the decay must have happened rapidly because in order to have helium built up inside the crystal, the rate of helium production had to be faster than the rate at which helium diffuses out of the crystal. The input had to be faster than the output or it would never build up. Since zircons lose helium quickly, the rate of helium production had to be really fast at some point in the past, and even now that rates are slower, there is still helium left that hasn't had time to diffuse out yet. Or in other words, the bucket is still half full even though we know the water is pouring out the hole faster than it is coming in right now.
The best explanation for these observations is that the input – the rate of helium production, and thus the rate of radioactive decay – was faster at some point in the past and thus allowed helium to accumulate inside the crystals.
This is not speculation or cherry picking or wishful thinking. It's an honest attempt to explain ALL of the data. Traditional radiometric dating methods only take into account the amount of daughter product and perhaps the fission tracks, but the helium content has been largely ignored or dismissed. When we take into account the entirety of the data, it is best explained by a period of accelerated radioactive decay at some point in the past. What's more, the result of taking into consideration all of the data, including helium diffusion rates, produces an age for these mineral crystals that is very consistent with the predictions of a young earth timeline. In fact, while young earth predictions fit the data very well, old earth predictions are off by a factor of 100,000! The preponderance of the evidence shows an earth that is only a few thousand years old.
---
References: