By Cheri Fields
This Is My Father's World by Maltbie D. Babcock
When I first started Creation Science 4 Kids (CS4K), the title of this hymn was my description phrase and I soon ran into another blog sharing its beauty to link to. But I'd never posted the words or story myself.
Well, that's fixed now!
Babcock's life makes for an interesting read, but I'll just send you to the best links I've found. For CS4K, the important bit is how he looked at the natural world. Here's a quote from Lectionary.org:
"Upon graduation from seminary, he accepted a call to First Presbyterian Church in Lockport, New York, a few miles east of Niagara Falls and a few miles south of Lake Ontario –– a lovely place. Babcock enjoyed running for exercise. He would often run several miles to a hill where he could see Lake Ontario in the distance –– and he enjoyed visiting a ravine where some forty varieties of birds found sanctuary. As he left to go running, he would tell the secretary, 'I'm going to see my Father's world.'"
Anyone as inspired by the Great Lakes to worship God as I am is a friend of mine! The photo with the gull on my website was taken at the spot where Lake Michigan and Lake Huron touch. Every spot on the planet has its own way to draw us to think about and honor its Creator.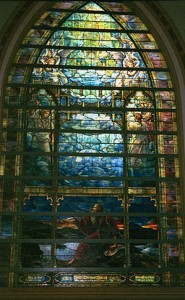 This is my Father's world,
and to my listening ears
all nature sings, and round me rings
the music of the spheres.
This is my Father's world:
I rest me in the thought
of rocks and trees, of skies and seas;
his hand the wonders wrought.
This is my Father's world,
the birds their carols raise,
the morning light, the lily white,
declare their maker's praise.
This is my Father's world:
he shines in all that's fair;
in the rustling grass I hear him pass;
he speaks to me everywhere.
This is my Father's world.
O let me ne'er forget
that though the wrong seems oft so strong,
God is the ruler yet.
This is my Father's world:
why should my heart be sad?
The Lord is King; let the heavens ring!
God reigns; let the earth be glad!
Choosing to honor our Creator God and learning to recognize Him in everything we see makes the world an awe inspiring place. Even when "the wrong" seems to be strongest!
He hath made the earth by his power, he hath established the world by his wisdom, and hath stretched out the heaven by his understanding. Jeremiah 51:15
Best biography pages: Missionaries' Biography: Maltbie D. Babcock
Ever heard of his other poems? There are 18 more. Check out this one, young people: Be Strong! We Are Not Here to Play (I'll have to remember this next chore time…) 🙂